During the 1940's and 50's the founder of the school, Leon MacLaren, began to develop the Practical Philosophy course out of his study of economics and philosophy.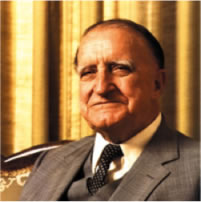 In the mid 1960's he was introduced to Shri Shantananda Saraswati, a leading figure of the Vedantic tradition in India.
Over the next 30 years Leon MacLaren paid frequent visits to India; receiving guidance in the study and practice of philosophy from the holy tradition known as Advaita, which literally means 'non-duality' or 'unity'.
Shri Shantananda Saraswati
At the first meeting, Shri Shantananda Saraswati talked about the direction of enquiry and the part he could play in it.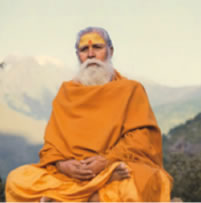 He said "It is not my desire which has to be carried out. The desire, which has to be helped, is that which arises in people looking for the truth, wishing to acquire the divine life, and to make efforts in that direction; and so far as I can, I will always be ready. My door is always open to anyone, known or unknown, eastern or western, irrespective of his upbringing or culture, because in fact we all come from the same stock. As long as that desire and the decision are strong, permanent and stable, the help will always be available."
The School found this to be so: for the next 30 years he gave fully of his wisdom and guidance upon it through a series of conversations with the School's leader at the time, Leon MacLaren.